Peace Letters to Ukraine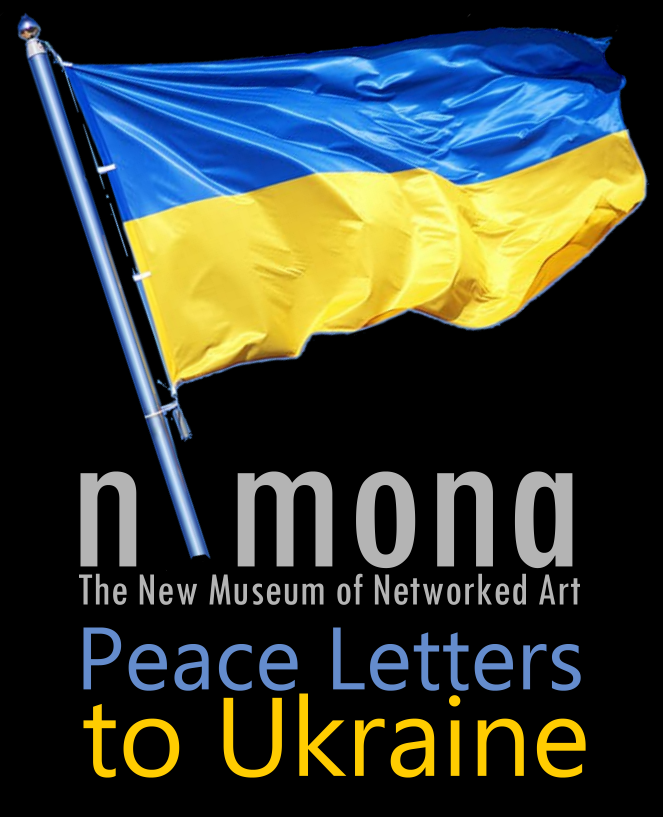 The World is in turmoil, the human civilisation is in turmoil, culture is in turmoil, the artists are in turmoil – violence and war in Ukraine and elsewhere, the war of the political systems and ideologies, genocide, racism, intolerance, climate change, pandemic, expulsion, refugees, globalization – and all simultaneously! The global crisis!
And what function might art have in all that mess? What message may transport these Peace Letters?
In any case much more than just promising support and solidarity and by no means the delivery of lethal weapons, but rather summoning the positive creativity when we, that's the world community, are staying together brainstorming, acting in respect and responsibility for each other. Art as a tool for sensitizing and encouragement and – Peace. The selected artists – coming from different continents and cultural backgrounds – show and offer their positive creativity via their audio-visual creations.
The Peace Letters to Ukraine Project is initiated by the Cologne based media artist and curator Wilfried Agricola de Cologne for The New Museum of Networked Art as a networked artistic action in reaction on the war against the Ukraine in solidarity with the Ukrainian people.
Venue

Torrance Art Museum Los Angeles (CA/USA) – 04-25 June 2022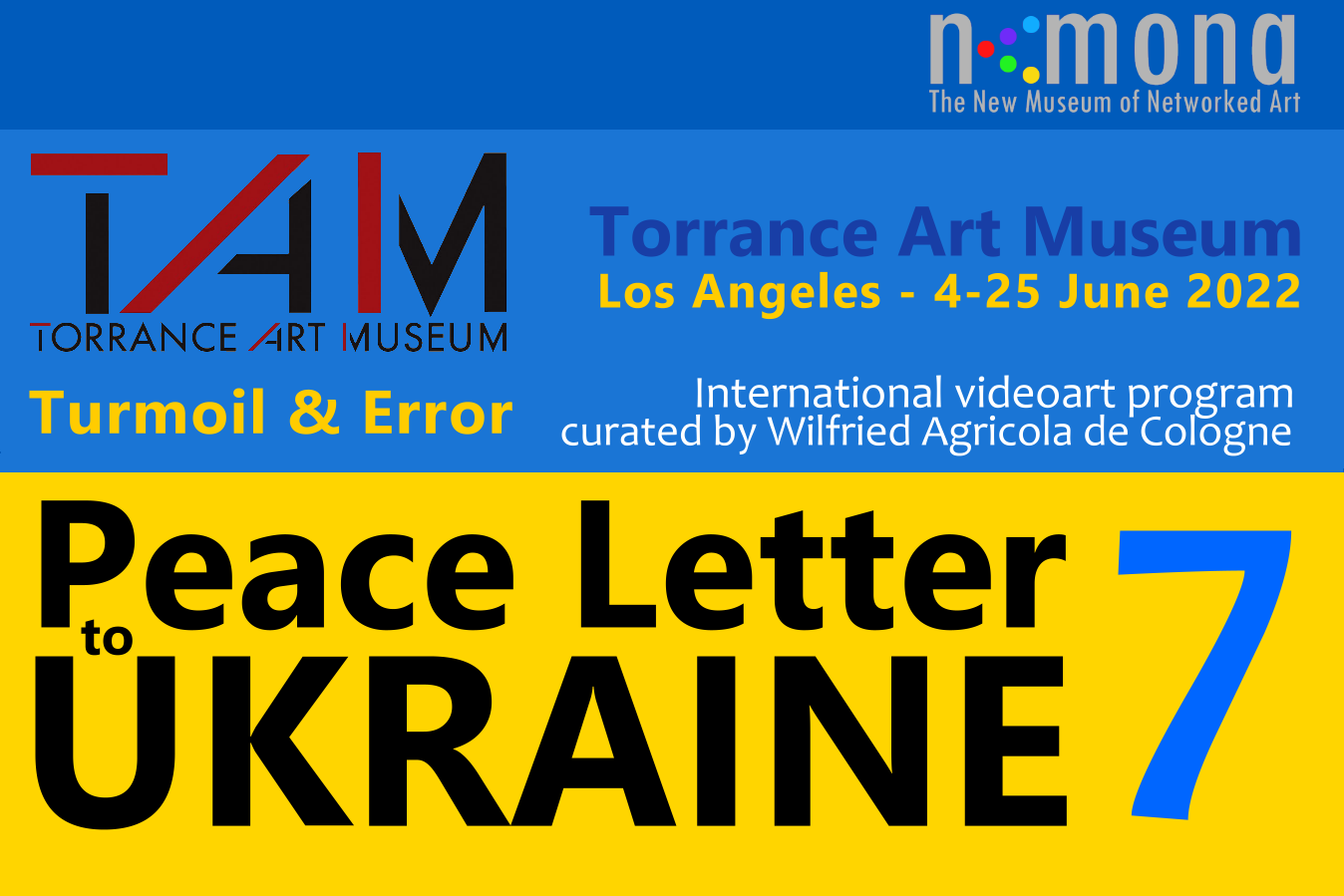 Peace Letter 1
Selection 1
curated by Wilfried Agricola de Cologne
Lena Nosenko (Ukraine) – Wait form me, 2010, 4:35
Oksana Chepelyk (Ukraine) – «Letter from Ukraine», 2014, 7:31
Vera Abakumova (Ukraine) – Self-fullfillment, 2011, 7:40
Oleg Kharch (Ukraine) – Fakemet, 2019, 3:46
Alexander Isaenko (Ukraine)- The negative selection, 2012, 3:30
Lidia Starodubtseva (Ukraine) – Time Is Up, 2018, 4:00
Kostia Vozniuk (Ukraine) Woman in her own room,2017, 04′ 08"
Nataliia Mashtaler (Ukraine) – Demonstration Lesson, 2012, 13:40
Oleg Chorny (Ukraine) – Olexa Hirnyk Stairs, 2012, 14:00
Oleg Chorny & Gena Khamruk (Ukraine) – Still Alive, 2012, 1:00
Alexander Yeltsin (Ukraine) – Warning, 2014, 5:37
selection 2
curated by Yarina Butkowska
Yuriy Kruchak, Yulia Kostereva (Ukraine) – The 7th of November, 2009, 3:36
Kateryna Babkina (Ukraine) – Used to be Keys, 2007, 2:30
Borys Pasichniy and Julia Pavlovska (Ukraine) – Milk, 2007, 3:51
Oleg Ushchenko (Ukraine) – Genius, 2006, 1:25
Olexiy Khoroshko (Ukraine) – The Aim Of The Game, 2007, 4:20
Mykola Kondratenko (Ukraine) – Longing For Students, 2007, 3:47
MaxFlood (Ukraine) – Let's walk More, 2007, 1:49
Svitlana Oleshko & Mykhaylo Barbara (Ukraine) – Stas Perfetsky is returning to Ukraine, 2005, 7:51
Viacheslav Poliakov (Ukraine) – Indoor-outdoor, 2007, 3:51
Oksana Chepelyk (Ukraine) – Urban Multimedia Utopia – UMU: 10:00, 2002
Peace letter 2
Bruno Pavic
Frederic Iriarte/ Ruch Ferguson /France/Sweden/USA)
MNaria Korporal
Jean-Michel Rolland /France)
Claude Ciccolella /France)
Lisi Prada (Spain) –
Fran Orallo (Spain)
Muriel Paraboni (Brazil)
Albert Merino (Spain)
Wilfried Agricola de Cologne (Germany)
Metteo Campulla (Italy)
Ulf Kristiansen (Norway)
Beate Hecher /MarKUS KeiM (Austria)
Johannes Christopher Gérard
Animauenoctis
Peace Letter to Ukraine 6
Turmoil & Error
selection curated by Wilfroed Agricola de Cologne
Laura & Sira Cabrera Diaz (Spain)
Ian Gibbins (Australia) – Colony Collapse, 2019, 3:54
Guilherme Bergamini (Brazil) – Plenitude, 2020, 5:00
Brit Bunkley (New Zealand) -Blood River, 2021, 651
Wrik Mead (Canada) – Camp, 2000, 12:22
Marek Wasilewski (Poland) – Clarification, 2020, 6:15
Kokou Ekouagou (Togo) – Stand Up, 2020, 1:46
Abhijit Patro (India)- PINJARA (CAGE), 2020, 2:53
Coalfather (USA) – Oversize, 2020, 2:56
Ausin Sainz (Spain) – Peaceful Protest, 2020, 5:00
Dimitris Argyriou (Greece) – 5 Minutes Silence, 2018, 10:52
Vito Alfarano (Italy) – I Have A Dream, 2019, 11:30