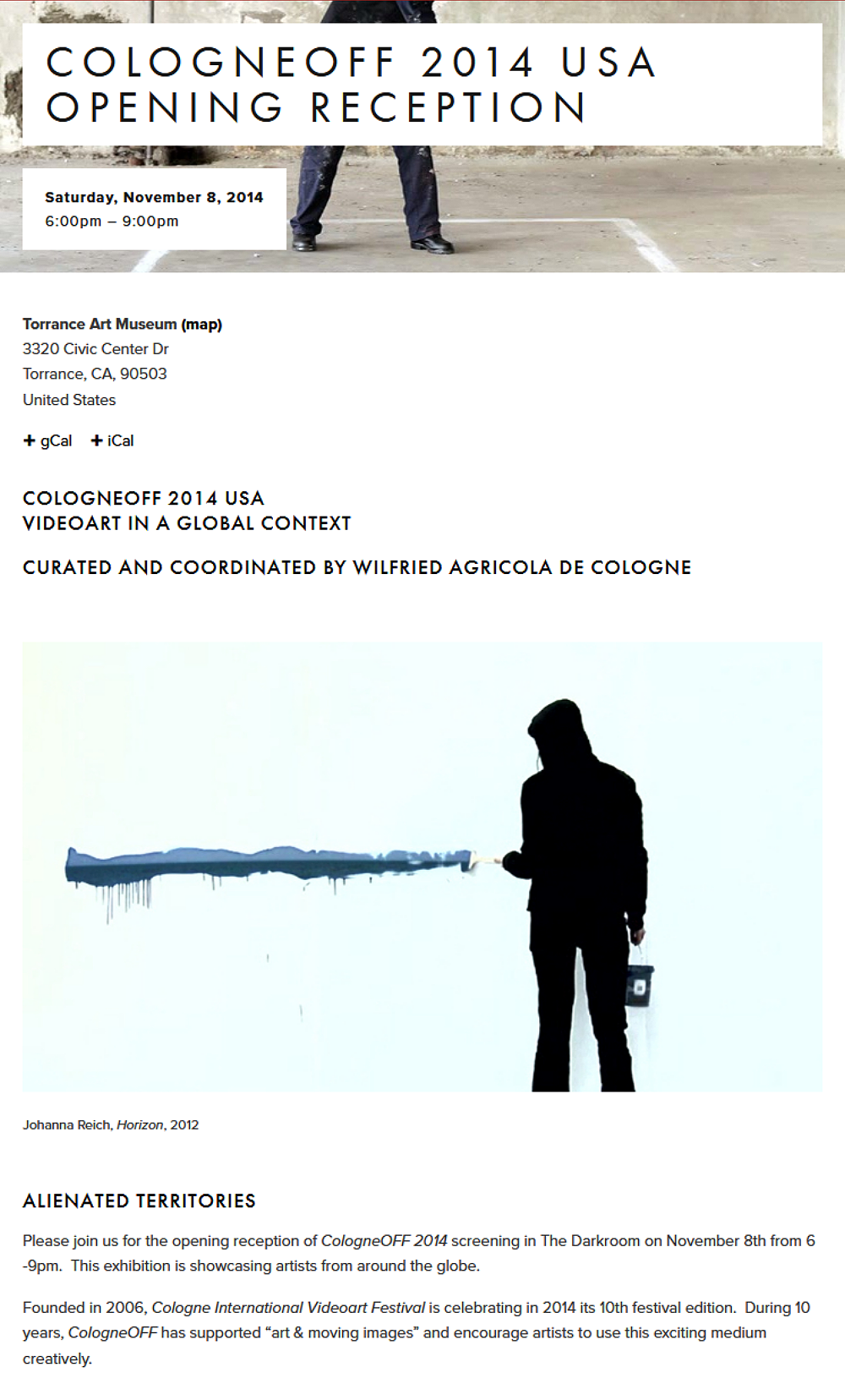 CologneOFF X – Total Art
CologneOFF 2014 USA
8 November – 6 December 2014 
CologneOFF 2014 USA
@Torrance Art Museum Los Angeles
8 November – 6 December 2014
CologneOFF X– " Total Art "
Selections, entitled:
Alienate Territories – Alienated Identities – Alienated Time Lines – Alienated Memory
curated & coordinated by Wilfried Agricola de Cologne
CologneOFF X – 10th Cologne International Videoart Festival
"Total Art" – (Gesamtkunstwerk) – curated by Wilfried Agricola de Cologne
The motto of the 10th Cologne International Videoart Festival – "Total Art – Gesamtkunstwerk" is not only related to the type and contents of the audiovisual video works to be selected, but also to the meaning CologneOFF has as an artistic creation of its own.
It points to the fact that the festival activities are the creative output of the media artist Wilfried Agricola de Cologne, founding director und curator of CologneOFF whose artistic creative work in form of curating is manifesting itself in that special type of art work, the 10th festival edition of Cologne International Videoart Festival., respectively the totality of the project, entitled CologneOFF – Cologne International Videoart Festival, including 10 editions of an experimental and experimenting festival, and in this way, 10 years of an exciting media development. The festival as an art project and a cultural creation.
However, Agricola de Cologne is not placing himself and his creation in the foreground, but the particular complex audiovisual creations by the submitting fellow artists whose video works follow all the idea of the "Gesamtkunstwerk" using an individual audiovisual language, and in this way, the medium of digital video in all its technological complexity in order to confront the audience with multi-facetted contents, the manifestation of philosophical, political, cultural or artistic statements through a critical view on the PRESENT, sometimes ironically and with a sense of humour, but very serious und profound in artistic concern.
The programs follow each one a concept of its own alienating usual perceptions in visual and philosophical terms. They reflect art transporting memory from the Past, the identity of the artist under continuously changing conditions, the environment people are living referring to Present and Future.
By taking a look on the reality they recognize the world is not like it looks like, a game between the real and surreal, between the subjective and the objective, polarizations and contradictions within themselves, exciting and disturbing.
CologneOFF X is the10th festival edition in sequence. In the time of the rapid development of everything is that kind of continuation representing an enormous value, especially considering that CologneOFF started in 2005, its foundation from point zero, and established among the relevant videoart festivals on the globe within quite a short time despite or due to the concept of a new type of nomadic festival which is taking place all over the year, seven days a week and 24 hour ours a day, in an exchange between virtual & physical space via the Internet & festival events all over the world with the best collaboration partners.
Venues
-Videoart Festival Miden Kalamata Greece – 3-5 July 2014
-Waterpieces Video & Art Festival Riga/Latvia – 15-17 August 2015
-MIVA _ International Videoart Festival Quito/Peru – 25 August – 14 Sept 2014
-Institut fuer Alles Mögliche Berlin/Germany – 4 September 2014
-Muza Plus – a space for art Tel-Aviv/Israel – 13 September 2014
-Onomato e.V. Düsseldorf/Gerrmany – 25 September 2014
-Proyector Videoart Festival Madrid/Spain (25 Sept – 05 Oct 2014)
-Athens International Videoart Festival (Greece) – 3-5 Oct 2014
-"Damen und Herren" e.V. Düsseldorf/Germany – 10 October 2014
– Parachute Light Zero Paris France – 21 November 2014
-EuroShorts Film Festival Gdansk/PL 24-30 Nov 2014
-Euro Shorts Film Festival Warsaw/Poland 24-30 Nov 2014
-VideoBabel – International Audiovisual Festival Cuzco/Peru (24-29 Nov 2014)
-Torrance Art Museum Los Angeles/USA – 8 Nov – 5 Dec 2014
-Ares – International Film and Media Festival Syracuse/Italy 26-30 December 2014
-CeC- Carnival of e-Creativity Shillong/Meghalaya/India 1-3 May 2015
CINEMA T 14/1
CINEMA T 14/02
CINEMA T 14/03
CINEMA T 14/04
Torrance Art Museum

Mission
The Museum encourages all people to develop and increase their understanding and appreciation for modern and contemporary artwork via a variety of exhibitions offered in its two gallery spaces, as well as educational programs, artist talks, lectures, and symposia.
Through its emphasis on contemporary artistic expression in Southern California and globally, the Torrance Art Museum brings together visual artists and community members; fosters personal and civic well being by inspiring understanding and appreciation of the visual arts; promotes meaningful experiences in the arts to strengthen creative and critical thinking skills; and builds bridges between the visual arts and other disciplines in the humanities and sciences.