Video Art Miden
1 April – 31 May 2021

Cinema M - Manifestations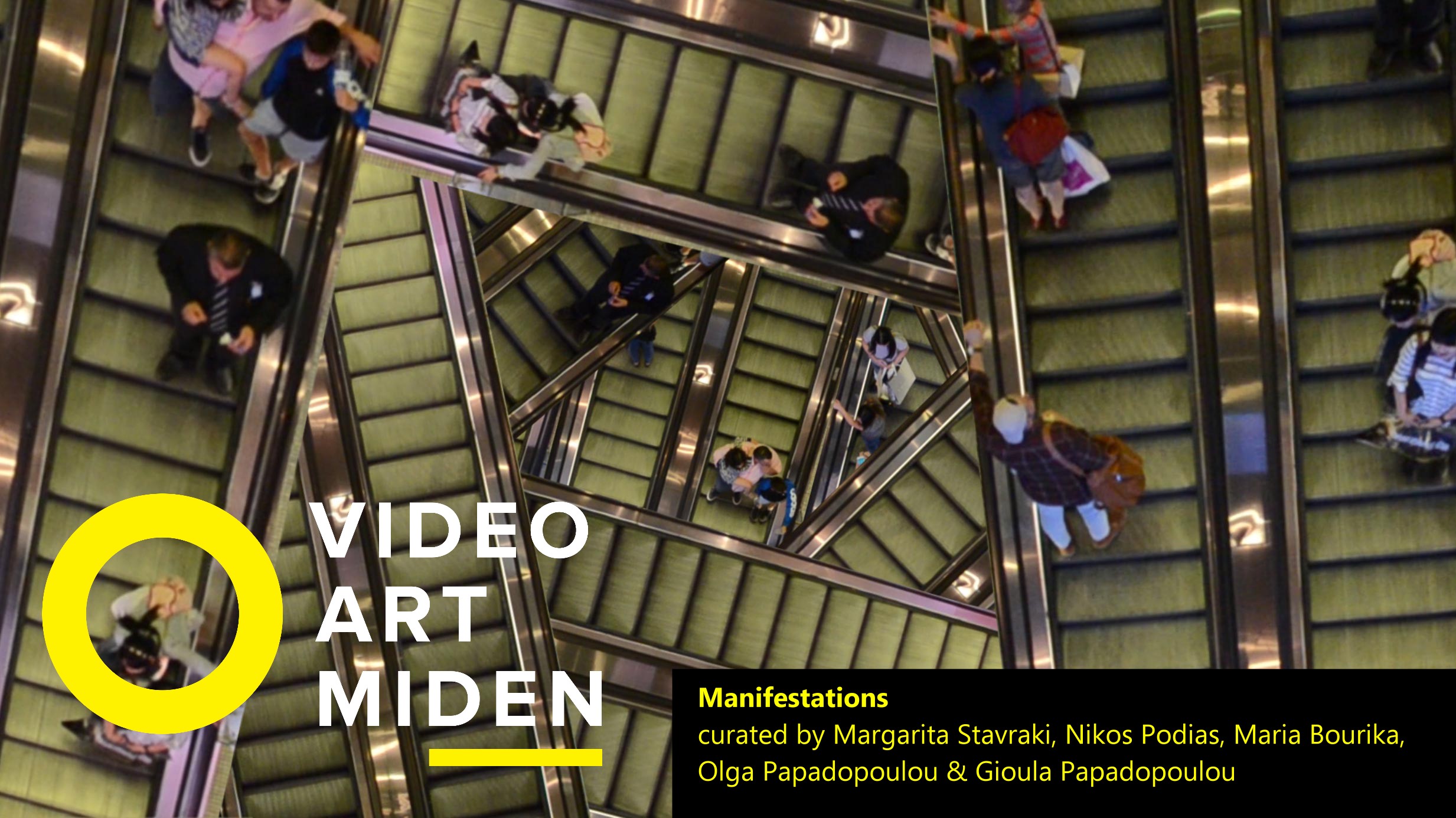 Video Art Miden::
Manifestations
Curated by Margarita Stavraki, Nikos Podias, Maria Bourika, Olga Papadopoulou & Gioula Papadopoulou
A selection curated collectively by the 5 basic curators of Video Art Miden's latest edition, "Manifestations" brings together 10 video art works that explore different aspects of life and the subtext behind common and seemingly ordinary actions, movements, thoughts and things that surround us. The works follow and record discretely human psychological and behavioral routines, intersecting with great sensibility various human transactions and social interactions, from personal to collective and ultimately to universal.
Fu LE (France) – MASS, 2019, 10.00
Caroline Rumley (USA) – Right Turn, 2018, 6.00
Iwona Ogrodzka (Poland) – Submission, 2019, 4.40
Tseng Yu Chin (Taiwan) – Scenery other end, 2018, 9.10
Gerald Habarth (USA) – Trees and Ice, 2019, 3.53
Allison Beda (Canada) – All about you, 2017, 3.45
Yiorgos Drosos (Greece) – Black Sheep Escape, 2018, 3.20
Hana Yoo (Germany) – Anthropology of Dead Body, 2019, 11.00
Oliver Poppert (Australia) , Cogs, 2019, 3.44
Nikos Giavropoulos (Greece) – "Quarantine Self-portrait" No2, 2020, 3.18
___________________________________________________________________________
Video Art Miden is an independent organization for the exploration and promotion of video art. Founded by an independent group of Greek artists in 2005, it has been one of the earliest specialized video-art festivals in Greece, setting as basic aims to stimulate the creation of original video art, to help spread it and develop relevant research.
Through collaborations and exchanges with major international festivals and organizations, it has been recognized as one of the most successful and interesting video art platforms internationally and as an important cultural exchange point for Greek and international video art. Miden screening programs have traveled in many cities of Greece and all over the world, and they are hosted by significant festivals, museums and institutions globally.
(*Miden means "zero" in Greek)
Art direction: Gioula Papadopoulou – Margarita Stavraki