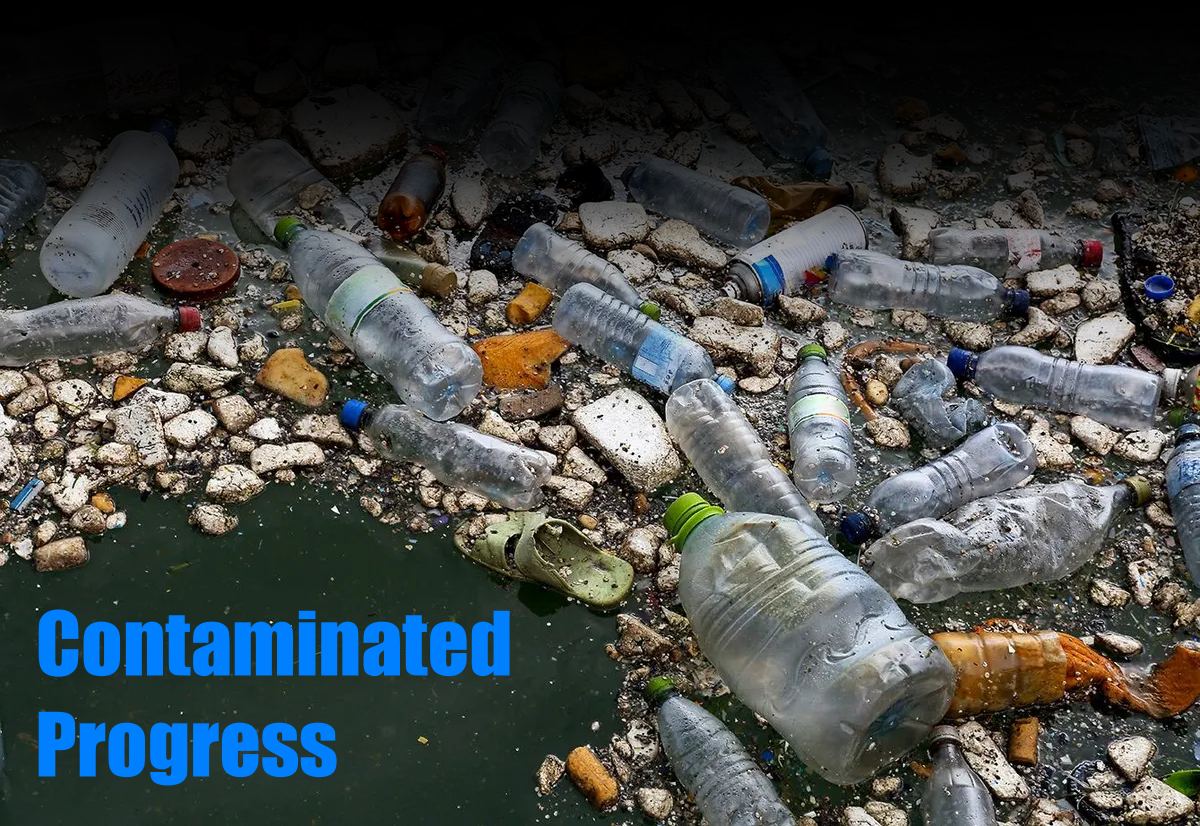 Contaminated Progress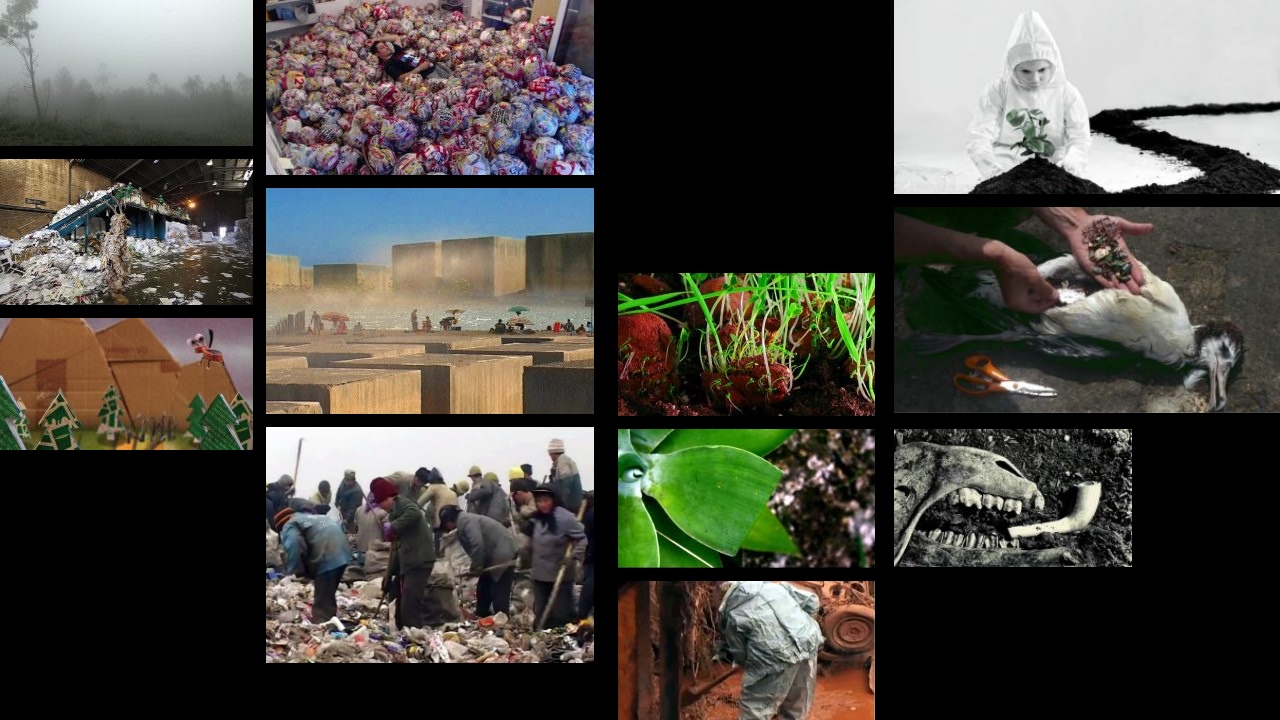 Paul Turano (USA) – Toxic Red Sludge, 2010, 5:00
Paul Turano (USA) – Toxic Red Sludge, 2010, 5:00
On October 4th 2010 a containment wall broke flooding the village of Kolontar, Hungary with toxic red sludge. Four people were killed and 150 injured in the deluge, which released poisonous chemicals from an alumina plant into the surrounding countryside. This work recasts the incident with the "Internationale" sung in Hungarian and the current Hungarian national anthem as a soundtrack rich with relative ideological and emotional meaning. This ecological tragedy is both an inherited by-product of lax environmental management from the Soviet era as well as continued neglect by the current government, which has been similarly unable to control industrial waste. Lost in the process is the fundamental importance of the protection of Hungary's people and ecosystems.
Paul Turano is a visual artist whose work incorporates lyrical observational strategies and meditations on personal space, as well as subjective reportage of marginal media events and long form essay films. It has been presented throughout Europe, Asia, Australia and North America. Based in Boston his work has screened at the Harvard Film Archive, the Institute of Contemporary Art and The Museum of Fine Arts and his films have been programmed in over 50 national and international film festivals. His current focus is the exploration of our relationship to natural environments in both local and global ways.
Ben Fox (UK) – Recent Tactile Nonsense, 2012, 2:17
Ben Fox (UK) – Recent Tactile Nonsense, 2012, 2:17
The strong tides of the River Thames stir up silted memories of London past. Debris of the City's past perform animated dances, while the tides shift and traces old of old existences emerge fleetingly. A brief watery reflection on the capital's past lives.
Benjamin Fox
Focusing on the tactile qualities of the material world and our interaction with it, Ben's films incorporate animation, photography and sculpture, using found materials to create worlds where heightened textural sensibilities and alchemical manifestations are ruled by uncanny feelings and buried desires.
Manuel Ferrer and Alena Mesarosova (Spain/Slovakia) – Irreal Time, 2012, 3:30
Manuel Ferrer and Alena Mesarosova (Spain/Slovakia) – Irreal Time, 2012, 3:30
We live in a world where we are conditioned by the speed at which the numbnes shappening around us, constantly increasing speed over time and the increasing proliferation of technology. This speed makes us go straight to a society where we do not perceive the changes around us slowly, precluding their understanding o a global audience. We find it interesting to see the changes undergone by the very nature, changes imperceptible to the human eye by the action of time.
Manuel Ferrer Hernandez –
Academic information: Currently pursing Phd at the UPV. – Master in Visual Arts and Multimedia in UPV. 2009. – Bachelor of Fine Arts at the UMH. 2006
Alena Mesarosova
Academic information: Title Ing.arch. (Inzinier architect). Fakulta umení, Technická Univerzita Košiciach, 2007.
Bachelor in arquitecture. Fakulta umení, Technická Univerzita Košiciach, 2004.
Diego de Los Campos (Uruguay) – Still Life, 2012, 2:28
Diego de Los Campos (Uruguay) – Still Life, 2012, 2:28
Video in stopmotion technique. Leaves, tree bark, moss and flowers disappear in portions of approximately 1cm with each photograph taken to form the animation.
In this video no plants have been killed. Yes, some leaves died. But there was considerably less death than that caused by the French gardener in his geometrizing will. Contradicting still life as the representation of the still arrangement, the video, in its opposite way, immobilizes nature, taking it to the starting point of its growth. Instead of freezing life in its naturally degenerative process, it reduces the amount of life in an artificially degenerative partial freezing process. The sensation caused (or intended) is that of a dendroclast devastation that will continue tirelessly and beyond the canvas of representation, until no leaf is left alive.
Born in Montevideo, in 1971, Diego de los Campos graduated in Fine Arts from the National Institute of Fine Arts of the University of the Republic in 1997. He moved to Florianópolis in 1999. Multimedia artist, works with drawing, painting, digital engraving, objects, installations, photographs and video. His work is part of the second volume of the book Construtores das Artes Visuais – Cinco Séculos de Arte em Santa Catarina, published by Tempo Editorial in 2014.

Luis Patino (Spain) – Echoes of the Forest, 2012, 6:52
Luis Patino (Spain) – Echoes of the Forest, 2012, 6:52
Lois Patiño
(born in Vigo SPAIN 1983 – living in Madrid). He combined his Psychology studies at UCM with cinema studies at TAI in Madrid. Then he moved to NY where he continue his cinema studies at NYFA, and to Berlin where he focused on videoart at UdK. In Barcelona he did a Master in Documentary Filmmaking at UPF and different whorkshops with artist and filmmakers such as Joan Jonas, Donald Kuspit, Pedro Costa, Víctor Erice, José Luis Guerín or Daniel Canogar.
His videos and videoinstalations have been shown in international art centres such as Centro Cultura San Martín (Buenos Aires), Casa Encendida (Madrid), CCCB + MACBA (Barcelona), Galeria Solar (Portugal)… And his films have been shown at international festivals as Locarno, Rotterdam, Toronto, San Francisco, Ann Arbour, Cinema du Rèel, Viennale, Media City…
Kristina Frank (Sweden) – Earth One Minute, 2013, 1:42
Kristina Frank (Sweden) – Earth One Minute, 2013, 1:42
Humans have taken control of the whole earth. Clever and inventive, we create constantly new things, while we use the earth as a resource and dump. through an insect's eyes. What happens when nature change? The parasite can perceive what is going on, but can not affect or draw conclusions, if lucky it could find a better place to live.
I sometimes feel like the little creep, small and powerless, but also full of guilt.
Kristina Frank
My animation training I received at Gotland University, Sweden. And have after that produced my own animations. Today I am working on an animation/dokumentarie project.
Javier Velasquez Cabrero (Spain) – My City a Bit Cleaner From Advertising, 2012, 6:00
Javier Velasquez Cabrero (Spain) – My City a Bit Cleaner From Advertising, 2012, 6:00
This project tries to deal one of the most influential contemporary factors and control that found in the uses and social values, as is it advertising.
As a starting point is founded a utopian (although in a some sense useful) advertising cleaning company and is operated for two months in which advertising is cleaned from the streets. The
material collected is used to invade a room and make a little more difficult progressively the habitability of space. Through this relocation of the invasion of the streets advertising, is
intended to rethink the system of marketing and advertising companies from a contradictory act, a mistake in itself, unproductive. Advertising is distributed, and is collected here, so it produces
an excess of production, without more sense than the own reflection. Reflection on why and consequences of this initial publicity distribution
Javier Velazquez Cabrero
His interest in interpersonal relationships and how these are affected by the socio-historical and political surround has led him to créate actions and situations in which he tries to
discuss our capabilities and skills of socialization – (with its implications of conflict and negotiation, and shuffling concepts such as public-private, individual-collective reality-
fiction) – to unravel their origins and how these are mediated, influenced or manipulated. His works, videos and performances has been exhibited in Spain, Germany, UK, Italy and EEUU.
Cinzia Sarto (Italy) – A Dirty Holiday, 2005, 7:00
Cinzia Sarto (Italy) – A Dirty Holiday, 2005, 7:00
A video experiment that mixes documentary and fiction, joining fragments of reality from different places and time. Inside a labyrinth of cement cubes, debris and water, humans distracted by the rituals of vacation seem indifferent to the world surrounding them. A veiled woman is searching a way out.
Cinzia Sarto was born in Turin in 1960. She moved to New York for several years, where she graduated in Architecture. She follows the courses at Film Video Art where she begins a path of contamination between documentary, video sets and video art. You live and work between New York and Isola Farnese, Rome.

Claudia Borgna (Italy) – L'ultimo Accordo I, 2016, 06:05
Claudia Borgna (Italy) – L'ultimo Accordo I, 2016, 06:05
Playing a Harmonica made of plastic bags
Born in Germany and raised in Italy, Claudia Borgna's work has been awarded internationally. Her academic formation developed at the University of Genoa in Italy, at the London Metropolitan University in the UK, and at Otis College of Art and Design in Los Angeles.
Through installation, performance and video art, Claudia explores her eco-feminist sensitivity while reflecting on the political, social and environmental functions of art and culture making
Carolin Koss (Finland) – Plastic Child, 2016, 12:11
Carolin Koss (Finland) – Plastic Child, 2016, 12:11
PLASTIC CHILD is about a journey of a child who lives in a contaminated plastic world. Being the heir of a single living plant gives him the air to breath and eventually delivers hope for human mankind. PLASTIC CHILD is part of the trilogy EMERALD GREEN, which is about a dystopian world, where nature has been rendered extinct, breathable air has gotten scarce and the sun has vanished due to exploitation of natural resources and human error.
Carolin Koss is a Helsinki based German-Finnish artist and filmmaker. Koss works with various media to create contemplative and aesthetic works. Embodying internal landscapes and tackling the subconsious sphere, stylised imagery or surreal set-ups, the artist invents dream realities which are often linked to real environmental issues, urban decay and dystopian future scenarios. She got recently awarded at Venice Film Festival for "Best Female Director" for her documentary "Copper Mountains" dealing with environmental pollution. Her works have been shown on various international exhibitions and film festivals e.g. in Helsinki, Stockholm, Berlin, London, Venice, Shanghai and NYC.

Francois Knoetze (South Africa) – Plastic, 2012, 5:00
Francois Knoetze (South Africa) – Plastic, 2012, 5:00
Cape Mongo follows a number of characters as they journey through the city of Cape Town. Each Mongo character is made from the city's discarded waste – mythical 'trash creatures' which have emerged from the growing dumps of consumer culture. In the films, the creatures revisit the spaces of their imagined pasts – the locations associated with their material existence and the constitution of their social relations – as if walking against the consumer-driven currents of city.
The Plastic film explores the often toxic legacy which is passed down from one generation to the next in the city, drawing links between the unsustainable nature of current practices of consumption, inherited privilege, the national identity reconciliation and the manner in which inadequate childcare feeds into the self-perpetuating cycles of poverty, unemployment and crime.
Mongo n. slang. object thrown away and then recovered
Francois Knoetze
is a Cape Town based artist. He obtained a BFA at Rhodes University in 2012 and recently completed his MFA at Michaelis School of Fine Art. He has participated at a number of group shows, some including the 2014 Cape Town Art Fair, The Big Hole (Art Week Cape Town 2014), the National Arts Festival Main Program ('Analogue Eye' in 2014 and 'Discharge' in 2012), the Absa L'Atelier exhibition (2011), and the Sasol New Signatures exhibition (2011 & 2013).
Knoetze's work investigates the relationship between the aesthetics of waste and the glossy facade of consumerism. Through public performance, sculpture and film, his practice explores the nuanced
lives of discarded objects and the powerful scope that the indeterminacy of trash allows for reorganisation and redefinition.

Liu Wei (China) – Hopeless Land, 2009, 7:28
Liu Wei (China) – Hopeless Land, 2009, 7:28
These junkmen in this video are farmers living in suburban areas of Beijing who come to this refuse dump everyday to grub wastes and domestic garbage from urban households in exchange for meager income as supplement to their basic subsistence. The continuously sprawling cities dump enormous garbage in their suburban areas, where local residents, mostly farmers, have to maintain their subsistence by grubbing these urban refuses. This is a part of the realty at the moment. While our mainstream media drums for urban development and prosperity, aren't there in itself a beautiful appearance that hides the reality of Beijing another side? are we really aware that the urbanization process is destroying our environment and the way we live?
Liu Wei was born in China in1965, He is an independent artist living and working in Beijing. He graduated from the China Central Academy of Drama, Beijing, China, and studies in philosophy form the University of Beijing. He participated in the 8th Gwangju Bienniale(2010), 9th Sharjah Biennial(2009), WRO 09 Media Art Biennale, the Taipei Biennial(2008) etc. He has also participated in numerous film/Documentary/video festivals, including Rotterdam Film Festival (2002, 2010), Milano Film Festival(2010), International Documentary Film Festival Amsterdam(2005), Cinema du Reel(2006, 2010), Viper Basel – International festival for film video and new media (2003), and Transmediale (2006) etc.
Xiaowen Zhu (China) – Terminal island, 2013, 10:50
Xiaowen Zhu (China) – Terminal island, 2013, 10:50
Terminal Island represents a visual and psychological journey inside a recycling company, where the world of materials ends and restarts. Through nuanced manipulation of documentary footage, the artist is interested in presenting an alternative perception of time and space in a geologically specific and yet philosophically ambiguous environment.
Xiaowen Zhu is a media artist, scholar and curator. Described as a visual poet, social critic, and aesthetic researcher, She uses video, photography, performance, installation and mixed media as platforms to communicate the complicated experience of being an international and to wrestle with the notion of a disembodied identity.
Zhu is currently based in Los Angeles, USA. She is the first receipt of the TASML Artist Residency Award and Marylyn Ginsburg Klaus Post-MFA Fellowship. She was an artist-in-residence at ZKM | Center for Art and MEdia Karlsruhe, V2_Institute for the Unstable Media, and Marymount University California. Zhu's works have been shown at Art Basel Hongkong, ZKM | Center for Art and Media (Karlsruhe, Germany), V2_Institute for the Unstable Media (Rotterdam, the Netherlands), ISEA2011 (Istanbul, Turkey), Dumbo Arts Center (New York, USA), Videonale (Berlin, Germany), Museum of Contemporary Photography (Chicago, USA), Strozzina Art Space (Florence,Italy), Sainsbury Center for Visual Arts (Norwich, UK), DOK Munich (Munich, Germany), Everson Museum of Art (Syracuse, USA), Shanghai eArts Festival(Shanghai, China) and more.

Gabriele Stellbaum (Germany) – Shame, 2019, 1:11
Gabriele Stellbaum (Germany) – Shame, 2019, 1:11
"Shame" picks up on the controversy of political and social responsibility via a standoff performance of a female public figure in front of a red curtain. The curtain sets into waving motion
and the performer stands silent and stoic against a movie background of a melting iceberg while the audience attacks her. On and off she slaps her forehead with her hand in speechless motion.
The notion of shame and anger is verbalized in the audience. Have political decisions caused the melt? Or is it just a performance gone bad with an audience not believing in these climate facts?
Gabriele Stellbaum
was born in Berlin, Germany. She exhibited extensively in solo and group shows in Europe and the U.S. Her video work is in public and private collections in the US and abroad. Her video work
has recently been reviewed at Artnet.com and Director's Lounge. Stellbaum is director, producer, script writer and actor for her video works